23. 11. 2015
This week Frank Bold had the opportunity to participate in two significant conferences on responsible corporate behaviour. The prominence of the speakers and participants highlighted the growing recognition that companies should act proactively to embed sustainability into their operations and manage risk in their operations, especially in high risk regions and industries.
Enterprise 2020 Summit: The Future of Europe
CSR Europe, the European business network for Corporate Social Responsability, organised the E2020 Summit to encourage businesses to contribute to achieving the Europe 2020 goals by delivering high levels of employment, productivity and social cohesion. To that end, they brought together more than 500 participants, including high level business representatives and policymakers from across Europe. During the different sessions, there was always an underlying idea: the need for financially, environmentally and socially sustainable companies. In this sense, the European Commissioner Elżbieta Bieńkowska stated: "we want more European companies to take responsibility, and take care of all shareholders, stakeholders and society".
A wide range of issues were tackled during this two-day event such as non-financial reporting, management and leadership, business education, sharing economy, youth employment, business and human rights.
Filip Gregor, Head of Responsible Companies at Frank Bold participated in the panel discussion "Building blocks for the Future Europe" along with Member of European Parliament Richard Howitt and the Chairman of China Golden CSR Council, Johnny Kwan. In his intervention, Filip emphasised the need to define the expectations that we as a society have on businesses and added that "it is time to be creative about re-creating the set of metrics we use to measure companies' success". His final conclusion revolved around the importance of corporate purpose to set the path towards sustainable management and leadership.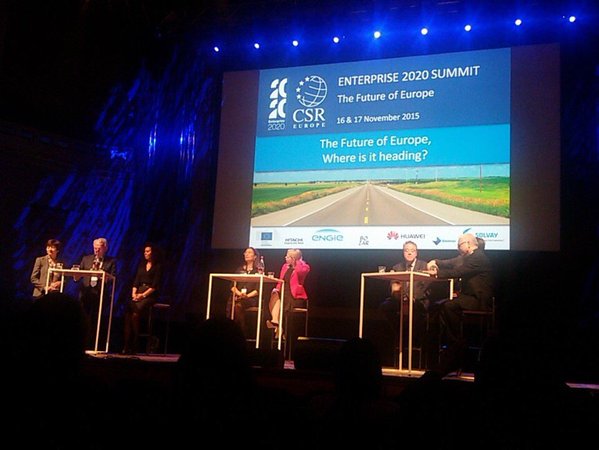 The Summit also saw the launch of the European Pact for Youth, which aims to develop partnerships in support of youth employability and inclusion. The Pact is supporting the creation of 10,000 quality business-education and aiming to create at least 100,000 new good quality apprenticeships, traineeships and entry-level jobs.
UN Forum on Business and Human Rights
Running in parallel with the E2020 Summit, the 4th annual UN Forum on Business and Human Rights took place in Geneva. The UN Forum is the world's largest gathering on Business and Human Rights, bringing together more than 4,000 experts to discuss the implementation of the UN Guiding Principles on Business and Human Rights.
Frank Bold co-organised a panel on human rights due diligence in law and practice. The UN Guiding Principles require businesses to conduct proper due diligence to avoid and mitigate human rights impacts. Richard Howitt MEP noted that European Parliament passed a resolution after the Rana Plaza factory collapse in favour of mandatory due diligence but it has not yet been adopted in EU law.
Robert Brooks from the law firm Norton Rose argued that properly conducted due diligence in multinational transactions such as mergers and acquisitions will typically uncover human rights issues at the same time as other problems, e.g. corruption, without any significant additional cost.
Sandra Cossart from Sherpa presented a draft French law that codifies a 'devoir de vigilence' or duty of care for businesses. The text proposes that large French enterprises put in place a due diligence plan with respect to the environment, human rights and corruption in the entirety of their supply chains, including in their subsidiaries and sub-contractors in France and globally. Sandra explained that a number of French companies support the law because it clarifies legal and societal expectations of them and ensures that businesses that act responsibly will not be exposed to civil or criminal liability. However the law was rejected by the French Senate only hours after the panel ended and will now return to the Assembly for a second vote.
Many of the sessions at the UN Forum are viewable on UN TV video from the due diligence session will be added in the coming weeks.