31. 5. 2016
Frank Bold will host in September 2016 a conference bringing together leading thinkers, businesses and policymakers for a discussion on post-crisis corporate governance in Europe.
Registration is open now! Places are limited!
Reflecting on recent legislative developments and imagining the economic and business environments on the horizon, this debate will assess what future sustainable corporate governance and business models will look like and ask how to best align social responsibility, profitability, competitiveness and innovation. The summit will gather high level representatives from business, policy and academia as well as from leading think tanks, responsible investors and civil society.
| | |
| --- | --- |
| Venue: | Place Royale 11, Brussels |
| Date: | 28 September 2016 |
Confirmed keynote speakers:
EU Commissioner Vera Jourová, DG Justice, responsible for corporate governance and company law.
Susanne Stormer, Vice President of Corporate Sustainability at Novo Nordisk.
John Kay, well known author, economist, FT columnist and visiting Professor of Economics at LSE
Richard Howitt, Member of the European Parliament for the Labour Party for the East of England.
Paul Dickinson, Executive Chairman Carbon Disclosure Project.
Peter Montagnon, Associate Director of the Institute of Business Ethics.
Stefan Stern, Director of the High Pay Centre and visiting professor at the Cass Business School.
Paul Adamson, Chairman of Forum Europe and founder of E!Sharp.
Marcello Palazzi, Founder of Progressio Foundation for Human Progress and Co-Founder B Lab Europe.
Tickets will be made available soon.
The conference will discuss the desired future of corporate governance in Europe and implications for strategic vision of EU policy making by tackling the following questions:
How can sound corporate governance foster the long-term success of corporations and sustainable behaviour?
What is best practice for embedding and protecting purpose and culture in corporations?
What is the role of investors and other stakeholders in this respect
How do we identify and overcome misaligned incentives in law and practice that drive short-termism?

What is the connection between the discussion on corporate governance and the EU objective of uniting capital markets?
---
Launch of Corporate Governance for a Changing World Roundtable Report
The event will feature the launch of the report from a global roundtable series on corporate governance organised by the Purpose of the Corporation Project from 2014 - 2016.The series brought together thought leaders from the business, investor, and academic worlds to clarify the desired results of corporate governance and worked back from there to design a corporate governance framework that is fit for the challenges of the 21st century.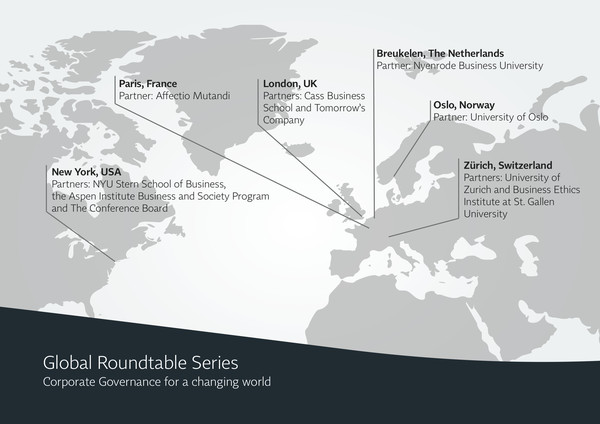 ---
Background Context
There is emerging consensus that companies should focus on creating long-term sustainable value but there is little agreement on how to define, measure or attain this objective. Following the recommendations of corporate governance codes is no guarantee of a well-functioning company. Equally, a high share price today is no guarantee of a high share price in two years' time let alone the time horizon important to investors relying on stocks to fund their retirements. CSR initiatives, whilst often making valuable contributions to society, can sometimes exist alongside unseen negative externalities. Publicly listed companies are under pressure from capital markets to maximize their efficiency and generate short-term value. These market dynamics have a number of unintended consequences including:
Firm mismanagement through stock manipulation, insider trading and tax evasion, with a number of associated firm-level and macroeconomic risks

An inappropriate focus on the short-term that prevents businesses from investing in innovation to foster long- term sustainable growth

Erosion of trust between society and the corporate sector

The failure of companies to adequately respond to systemic risks, such as environmental damage and climate change, due to the perceived cost

Increase of inequality, in part due to the failure to translate corporate profits into increased salaries across the firm, and externalisation of costs
Business leaders and writers are increasingly critical of the problems associated with the dominant model of corporate governance. There is an increasing evidence that companies paying more attention to environmental, social, and governance (ESG) factors are generally more successful over the long-term. According to a survey of global business executives conducted by Harvard Business Review, business leaders consider that a clearly articulated purpose is key to higher growth and success in innovation, yet the majority recognise that purpose is insufficiently integrated in their own companies' strategy and decision making.
The conference will address these challenges and outline pragmatic options for changes to the practice and regulation of corporate governance and business management to foster long-term and sustainable economic development in Europe.
Useful documents:
If you are interested in receiving more information or proposing a partnership, please contact us via email: susanna.arus@frankbold.org